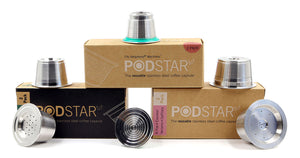 What's a Pod Star?
Pod Star capsules are REUSABLE coffee pods, made from the highest food grade stainless steel. Filling a Pod Star capsule is the most eco-friendly way to use your machine. It gives you the freedom to choose your coffee beans, and it saves you money with every cup you drink.
It's simple to fill the lifetime capsules with your favourite coffee. You can now use freshly ground coffee straight from your barista, or grind any beans you like, or get our freshly roasted and ground fair trade coffee. Our fine-to-medium grind is the key to a perfect Pod Star coffee.

With over 55 million single-use coffee capsules going to landfill every day, Pod Star addresses the problem of waste and cost to our planet. Pod Star is a ZERO WASTE solution to your coffee drinking. Your garden will love the used grounds.

Pod Star - giving you freedom, saving you money, and reducing waste.
EXPLORE OUR PRODUCTS
Learn more about Pod Star
We are an Australian company helping you make the change, one pod at a time.
Pod Star is easy to use
Fill your Pod Star with fresh coffee.
Star Spiced Chai
Fill your Pod Star capsules with the rich, velvety spices of Star Spiced Chai for an indulgent beverage this winter. Simply fill a pod or two, place the pod in your machine and push the long pour button. You can add milk if you like or enjoy it's creamy spices just with the hot water infusing with it from you pod machine. Available in 100g, 200g, 500g & 1kg Packs.
BUY NOW